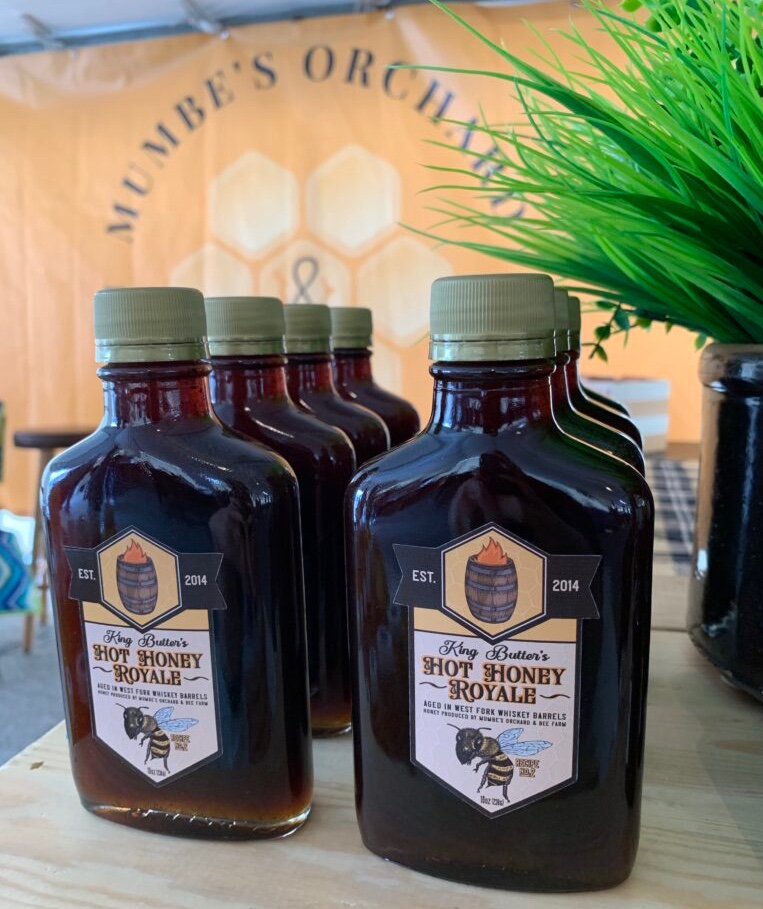 After a HUGE turnout during the Pork Festival and Simple Goodness Soaps Fall Festival, we sold out of every bottle we had available in just three days!!
We are happy to announce we have a newly bottled batch getting labels this week and it will be available at the following locations this weekend, September 23rd:
1. Tipton County Farmers' & Artisans' Market
This was a VERY SPECIAL 6 month project with our good friend King Butter!!
This VERY SPECIAL bottle contains a blend of Mumbe's Raw Honey and King Butter's Firebreather spice blend…creating the best Hot Honey we've ever had!!
Now imagine, just for a moment, you take that amazing hot honey and age it in a West Fork Distillery whiskey barrel for 3 MONTHS…and just like that…King Butter's Hot Honey Royale was born!!
Just out of the barrel and into the bottle, King Butter's Hot Honey Royale will bring an amazingly sweet, spicy, bourbon flavor to any dish!! Spice up your chicken, add some flavor to that grilled burger, heck, we've even spread it over stuffed mushrooms hot out of the oven…you won't be disappointed!!
So do yourself (and your taste buds) a favor and dine with royalty the next time you sit down at the dinner table!! 😉
Available in 10oz and 2.5oz bottles…stop by to pick some up before it's gone…it won't last long!!!